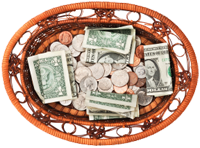 In passing the basket, SpiritHouse believes that everyone can make a contribution. Your donation helps to continue the work of SpiritHouse. All contributions are valued, from the highest to the lowest.
Today we ask you to help us support the work of Stop the War on Our Children or other programs of the Spirithouse Project. Please contribute according to your ability and pass the basket to everyone you know. We accept all forms of payments and donations: cash, checks, or contributions through PayPal. All are greatly appreciated!
You can give through PayPal, a secured donation site, by clicking the button below.
Thank you,
Ruby N. Sales
Founder and Director of the SpiritHouse Project